TRB
2010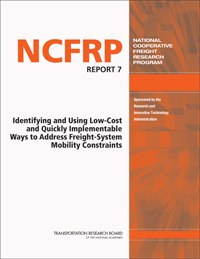 TRB's National Cooperative Freight Research Program (NCFRP) Report 7: Identifying and Using Low-Cost and Quickly Implementable Ways to Address Freight-System Mobility Constraints explores standardized descriptions of the dimensions of the freight transportation system, identifies
freight mobility constraints in a multimodal context
, highlights criteria for low-cost and quickly implementable improvements to address the constraints, and includes a software tool to help decision makers in evaluating constraints and selecting appropriate improvements.
The software tool is available for download in a
.zip format
. A
user guide
for the software is also available for download.
Project: Project Information
E-Newsletter Type: Recently Released TRB Publications
TRB Publication Type: NCFRP Report
Bajar documento
Go to all the
resources